Welcome to the Canned and Curated seasonal subscription box. We are delighted you are thinking about signing up for this box or gifting this small batch box to someone so special. We are excited to share our unique products along with some of our favourite small local shops  with you and/or your loved ones (just as much as you are to gift them).  Your subscription to this box will be shipped out seasonally, the  Spring box will be billed on March 15th, Summer will be May 15th, Fall will be August 15th, and lastly Winter will be billed November 15th. All boxes are shipped two weeks after the billing date. Please note if this is a gift option proceed with the following: 
Please select when you would like the subscription to start (Please refer to the calendar as to billing dates for the season. I.e. if you select after March 15th you will be billed the next billing period which is May 15th and your recipient will receive the Summer Box and so on).
Please enter the recipients name and address in the Shipping Field and your information in the billing
Please note when you would like the subscription to stop (i.e. 2 seasons (min), 1 year, or "continue until I cancel" and so on)
Please note if you would like to leave a gift message or a card by emailing lowershannonfarms@gmail.com and referencing your order and recipient and we would be happy to do this for you!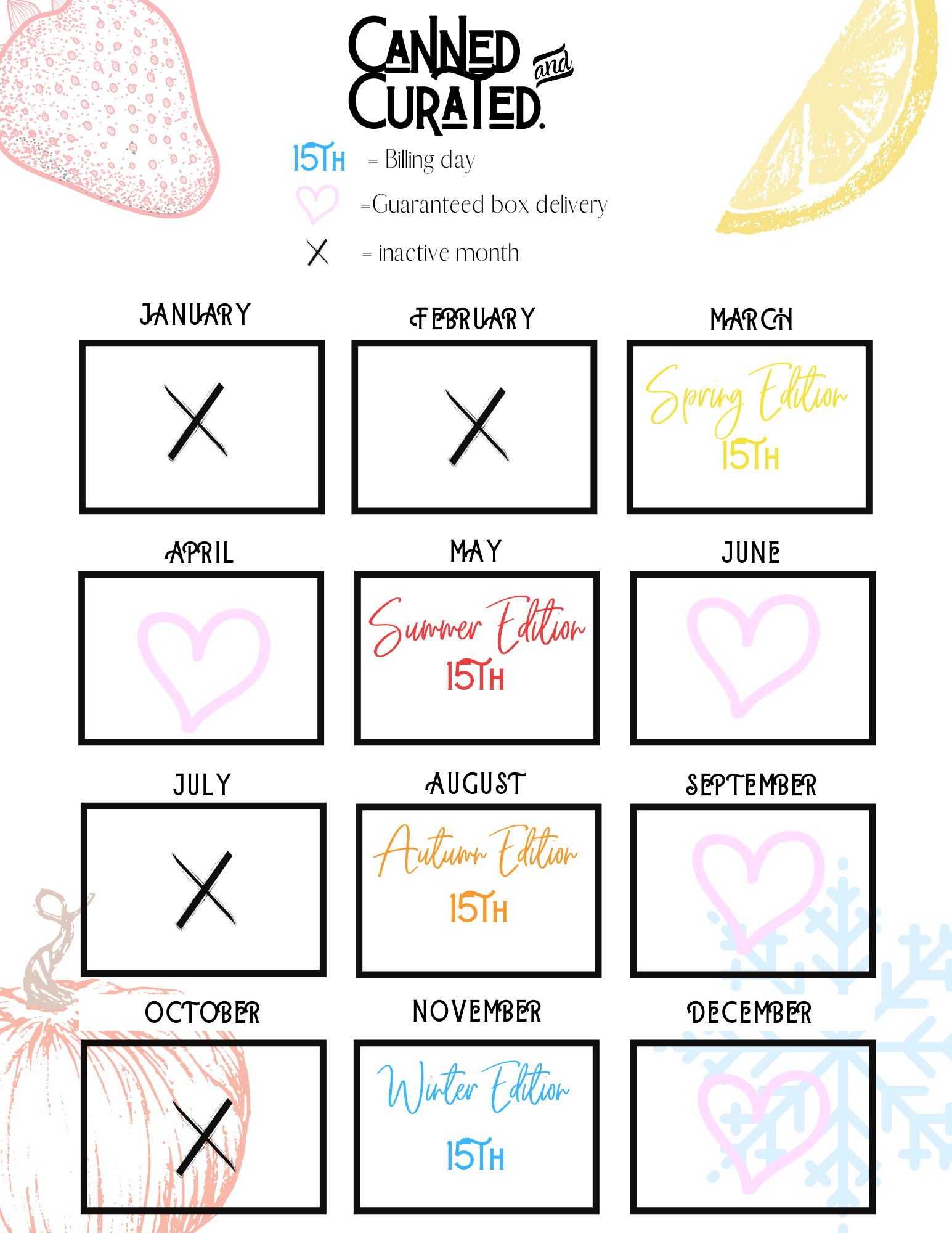 Canned and Curated Small Batch Seasonal Subscription Box
$ 119.99
Welcome to the Canned and Curated Crew! This unique and awesome subscription box is based off of our Farm, including many delightful and delicious farm to table products to help you appreciate every season from Spring through Winter! Each box also includes complimentary products from some of our other favourite small shops! Products for fun and every day that we know you will get lots of use out of and absolutely love! Small batch means high quality products made with the best ingredients and or materials by aspiring and amazing small entrepreneurs! Sign up now to experience this delightful box sure to brighten every season! Each Box is valued at over $170 CAD and sold for just $119.99 with a low $9.50 domestic shipping/delivery fee (each box weighs ~8-10 lbs) The box currently only ships within North America (different shipping rates for US apply). If you are local to Lloydminster, USE code LOCALYLL for a free pick up option. As we continue to prepare and work with other small vendors for the upcoming season we have set the Minimum sign up at 2 seasons ahead to allow that framework for the makers as they are working in small batches just for you. Cheers!
This box will also include:
- Recipes, tricks and tips
-Exclusive deals
-Access to add on items at a discounted rate
-An option to gift a subscription and much more!
Please reference the calendar below for all the shipping dates and thank you ever so much for shopping small!
The Add Ons store for this box will open March 20th, emails will be sent out notifying subscribers of the opening. Happy Subscribing! xo